In Memory
Don Frueh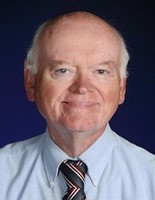 Obituary for Donald C. Frueh
Donald C. Frueh, 69
Donald C. Frueh went home with his Lord on Wednesday, March 14, 2018 at Lankenau Hospital in Philadelphia, PA; age 69 years. Don was born on July 9, 1948 at Presbyterian Hospital in Philadelphia, PA to the late Arnold and Elva Frueh. He was married to Wilma (Schellhas) on June 26,1971 with whom he shared 46 years of marriage; she survives him.
Don spent 45 years in Banking - the first 25 years with First Pennsylvania and Corestates Banks; and the next 20 years consulting with Ardmore Banking Advisors. He graduated from Haverford High School in 1966, Lafayette College in 1970, and the Stonier Graduate School of Banking in 1978.
Don spent 20 years on the Board of Directors for Philadelphia Lutheran Ministries and was active on a variety of other Boards, both for and non-profit. Don loved spending time with his family and he enjoyed music, reading, and travel.
Surviving besides his wife are two children, Andrew (Karen Copeland), Salt Lake City, UT and Abigail (Kevin) Size, Buffalo, NY; and one granddaughter, Madeline.
Don's family will receive visitors at Frank C. Videon Funeral Home, 2001 Sproul Rd, Broomall, PA 19008 on Tuesday from 6:00pm to 8:00pm. Funeral services will take place at St. John Lutheran Church, 25 Scenic Rd. Springfield, PA 19064 on Wednesday at 11:00am, where friends may call after 10:00am. Interment will follow at West Laurel Hill Cemetery, 321 Belmont Ave, Bala Cynwyd, PA 19004.
In lieu of flowers, those planning an expression of sympathy may wish to consider memorials to Philadelphia Lutheran Ministries, Inc., P.O. Box 15155, Philadelphia, PA 19130 or Grace Lutheran Church, 327 Avenue C SE, Winter Haven, FL 33880.
http://www.frankvideonfuneralhome.com/obituaries/Donald-C-Frueh?obId=3020400#/obituaryInfo