Haverford High Senior Awards Night
May 24, 2017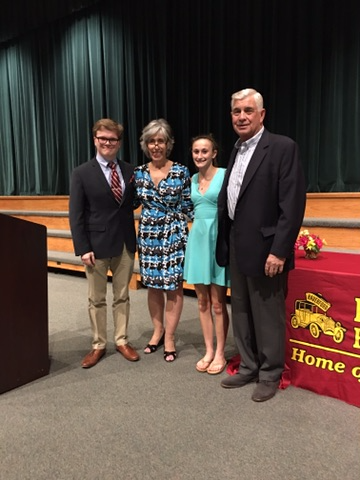 L-R: Jacob Kaufhold, Dulcie Fineberg Flaharty,
Bridget Cincotta and John Linehan
On Wednesday May 24, Dulcie Fineberg Flaharty and I attended the annual Haverford High School Senior Awards Night in order to present the Class of 1966 Scholarship grants to two members of the HHS Class of 2017. The two students selected by the HHS faculty scholarship committee are: Bridget Cincotta and Jacob Kaufhold. Bridget and Jacob were selected primarily for the selfless contribution of their time and talent to the betterment of the school and community. Both are outstanding sudents as well, with Bridget achieving the highest GPA in the class. Bridget will be attending Dartmouth College and Jacob will be attending Dickinson College.
Many thanks to the forty-seven members of our class whose generous contributions made the scholarship grants possible. A total of $5,300 was raised with each recipient receiving a grant of $2,650.
Best wishes to all for a wonderful summer,
John Linehan
Another Mini-Reunion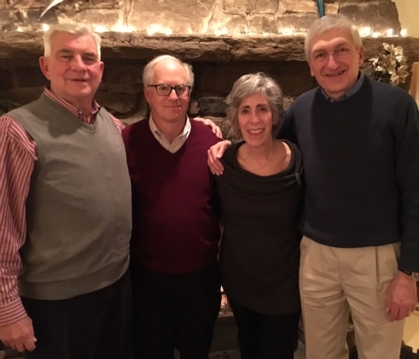 L-R: Classmates John Linehan, Pete Barbour, Dulcie Fineberg Flaharty and Steven Weinberger gathered with their spouses for a wonderful dinner at Dulcie and David Flaharty's home on Saturday January 14, 2017.
We enclourage all of you to share photos and a story line whenever members of the Class of '66 get together.
Classmate Featured
The business owned and operated by HHS Class of 1966 classmate Lois Finkelstein Caplan was featured in an article appearing in the Philadelphia Inquirer back on December 30, 2016. Here is the link to the story: You will need to copy and paste the link into your browser in order to read the article.
http://www.philly.com/philly/business/small_business/Two-sisters-had-an-idea-and-it-bloomed-far-beyond-their-dreams.html
Special thanks to classmate Rebecca Craven Greenhow who brought the story to the webmaster's attention.
ANNOUNCEMENTS
sorry to hear of the passing of Frank Williams.