Mini Reunion on October 29, 2018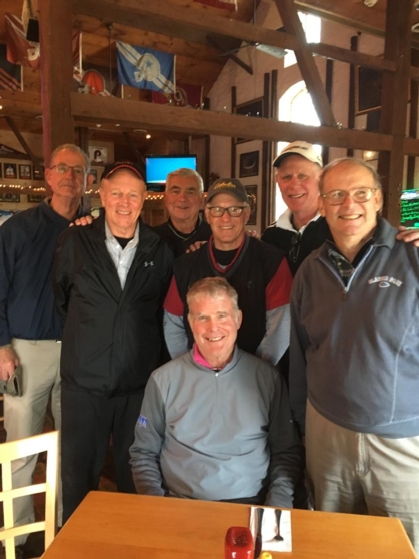 On Monday October 29, 2018, the seven members of the HHS Class of '66 pictured above gathered at Center Square Golf Club located in Skippack, PA for a round of golf. Pictured from left to right are: Pete Thompson, Tom Waddell, John Linehan, Ridge MacLaren (seated), Pete Barbour, Rob Bush and Don Leonard. While golf was the focal point of the day's activity, retirement, grandchildren and fond memories of our days together at HHS dominated discussion. We will meet again sometime next Spring for another round and more reminiscing.
If you are part of a gathering with members of our class, please take a photo and email it along with a brief story to johnplinehan896@gmail.com and it will be posted here.
Haverford High Senior Awards Night
May 24, 2018
Surprise! Early this year, the financial office in the Haverford Townnship School District Office informed us that some of the funds raised in conjunction with our 50the reunion remained in our account. Consequently, we were able to award a scholarship to HHS Class of 2018 member Briana Creeley who is currently a member of the freshmen class at American University located in Washington, D.C.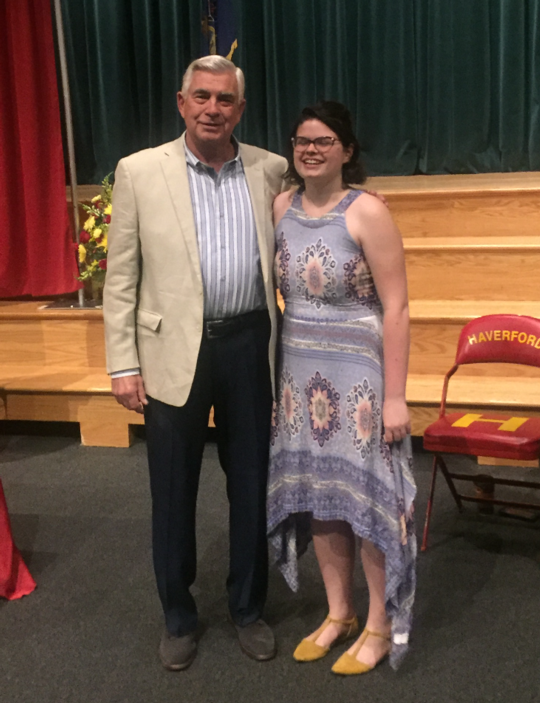 John Linehan, HHS Class of 1966 and Briana Creeley, HHS Class of 2018
Haverford High Senior Awards Night
May 24, 2017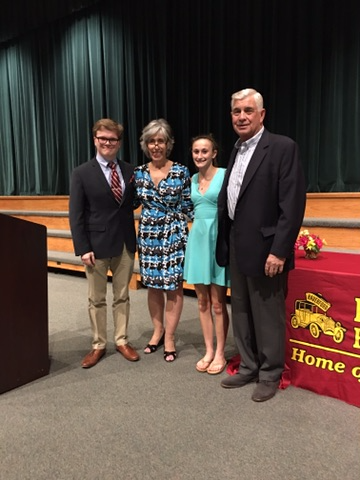 L-R: Jacob Kaufhold, Dulcie Fineberg Flaharty,
Bridget Cincotta and John Linehan
On Wednesday May 24, Dulcie Fineberg Flaharty and I attended the annual Haverford High School Senior Awards Night in order to present the Class of 1966 Scholarship grants to two members of the HHS Class of 2017. The two students selected by the HHS faculty scholarship committee are: Bridget Cincotta and Jacob Kaufhold. Bridget and Jacob were selected primarily for the selfless contribution of their time and talent to the betterment of the school and community. Both are outstanding sudents as well, with Bridget achieving the highest GPA in the class. Bridget will be attending Dartmouth College and Jacob will be attending Dickinson College.
Many thanks to the forty-seven members of our class whose generous contributions made the scholarship grants possible. A total of $5,300 was raised with each recipient receiving a grant of $2,650.
Best wishes to all for a wonderful summer,
John Linehan
Another Mini-Reunion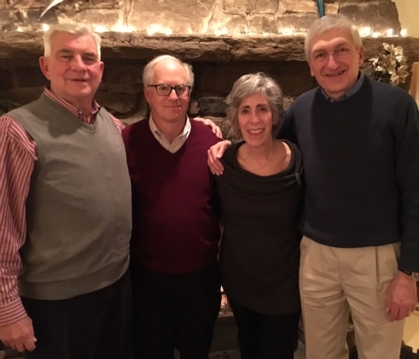 L-R: Classmates John Linehan, Pete Barbour, Dulcie Fineberg Flaharty and Steven Weinberger gathered with their spouses for a wonderful dinner at Dulcie and David Flaharty's home on Saturday January 14, 2017.
We enclourage all of you to share photos and a story line whenever members of the Class of '66 get together.
Classmate Featured
The business owned and operated by HHS Class of 1966 classmate Lois Finkelstein Caplan was featured in an article appearing in the Philadelphia Inquirer back on December 30, 2016. Here is the link to the story: You will need to copy and paste the link into your browser in order to read the article.
http://www.philly.com/philly/business/small_business/Two-sisters-had-an-idea-and-it-bloomed-far-beyond-their-dreams.html
Special thanks to classmate Rebecca Craven Greenhow who brought the story to the webmaster's attention.